HVR-Z7E PAL Veriosn
Sony latest HDV™ products include two new camcorders that feature
1) Interchangeable lens systems,
2) Native progressive recording, increased sensitivity for low-light conditions,
3) Hybrid solid-state recording and other features designed for video production professionals and pro-sumers.
4) 1/3-inch 3 ClearVid CMOS Sensor™ system enhanced by Exmor™ technology.
5) Selectable Recording format /HDV/DVCAM/ DV

HDV/DVCAM/DV File Recording on Easily Obtained CompactFlash Card
The recording time on a 16-GB CF card*9 in HDV, DVCAM and DV format*10 is
approximately 72 minutes.
| | |
| --- | --- |
| CF card capacity | Recording time (approximately) |
| 16GB | 72 minutes |
| 8GB | 36 minutes |
| 4GB | 18 minutes |
| 2GB | 9 minutes |
* At least 133x speed and 2-GB capacity is required. The NCFD8GP and NCFD16GP
Sony CF cards are recommended.
* The recording time may change according to the CF card type and recording format.



The new models are the HVR-Z7 (handheld) and HVR-S270 (shoulder-mount) camcorders.
Sony is also introducing the HVR-M35 playback and recording deck.
These new products expand Sony's line-up of HD production t
echnologies, which includes the recently introduced PMW-EX1 XDCAM EX™ solid-state memory camera and the soon-to-be-available HVR-HD1000
shoulder-mount HDV camcorder.

"These new tools enhance the versatility of our professional
HDV lineup, and open up a world of possibilities for HD digital video production," said Bob Ott, vice president of professional video and
audio products for Sony Electronics. "Sony's new HDV camcorders and decks are ideal for documentaries, electronic newsgathering,
independent production, music videos, web streaming, and more."

The new camcorders use Sony's 1/3-inch 3 ClearVid CMOS Sensor™ system enhanced by Exmor™ technology. With a 45-degree rotated pixel layout, the 3 ClearVid CMOS Sensor

system

offers sufficient pixel surface area while maintaining high resolution. The Exmor technology features a unique column-parallel analog-to-digital conversion technique and dual noise canceling, resulting in high-quality digital signals with extremely low noise, similar to the imaging technology used in the PMW-EX1 camera. The two new technologies combine to allow the new camcorders to perform significantly better in low-light environments with sensitivity of 1.5 lux. *



This imaging technology is complemented by Sony's Enhanced Imaging Processor™ (EIP) system to achieve high resolution, high sensitivity, wide dynamic range, and excellent color reproduction.
Users can attach different lenses for extra flexibility, and both models have a universal standard 1/3-inch bayonet mount mechanism for easier lens changes.
Each camcorder comes standard with a 12x high-quality, multi-purpose Carl Zeiss lens for HD video, with a Vario-Sonnar™ T* coating to reduce reflections. A specially designed 8x wide-angle lens is also available as an option.
These new lenses give the camcorders the same functionality as Sony's popular fixed-lens camcorders like the HVR-Z1 and HVR-V1, thanks to built-in features such as auto-focus, optical stabilizer, and automatic back-focus adjustment. Using a special adaptor, users can also attach the α lens series designed for Sony's consumer digital SLR still cameras.
The camcorders offer 1080, 24p and 30p native progressive recording. The 3 ClearVid CMOS Sensor system and EIP technology create true 1080p images, which can then be recorded as progressive signals by the HVR-Z7E and HVR-S270 camcorders in the HDV format. The progressive HDV streams can be output from an i.LINK® interface and used for progressive editing with compatible NLE software.
The HVR-Z7E and HVR-S270 can switch between 1080p, 1080i in the HDV format, DVCAM™, and DV recording, and both can down-convert material from HD to SD, and output the video signals through its i.LINK interface and other SD output connectors. The HVR-Z7E has an HDMI output. The HVR-S270 is available with HD-SDI or SD-SDI connectivity, and also supports embedded audio and timecode.
The HVR-Z7E and HVR-S270 use Sony's XtraFine™ LCD and XtraFine electronic viewfinder for high-resolution and high-contrast images with remarkable color reproduction. The HVR-S270 features a new LCD/EVF configuration named "Dual Finder," where the LCD located on the EVF enables multiple styles of operation.
The new camcorders offer the option of hybrid recording when using a supplied memory-recording unit, which attaches directly to the back of the HVR-Z7E or the side of the HVR-S270 and eliminates the need for cables. The unit automatically synchronizes with the recording action of the camcorder and a special shoe connector inputs and outputs an HDV/DV stream and supplies power to the unit.
This unit captures the HDV1080i, DVCAM, or DV stream output from the camcorder and can record HDV/DVCAM/DV files to a standard CompactFlash® solid-state memory card, while users are simultaneously recording to tape.
It will be compatible with Sony's Professional 306x CompactFlash card as well as standard CompactFlash cards (2GB minimum capacity, 133x minimum speed). The recording times on an 8 and 16 GB CompactFlash card in HDV, DVCAM and DV format are approximately 36 and 72 minutes**, respectively.
The HVR-Z7E can deliver more than 60 minutes of recording time on miniDV videotapes, and approximate recording times of 63 minutes with Sony's DigitalMaster™ cassettes (PHDVM-63DM). The HVR-S270 also accepts standard-size cassettes to provide more than 4.5 hours of continuous recording, with approximate recording times of 4 hours, 36 minutes** on Sony PHDV-276DM videotapes.R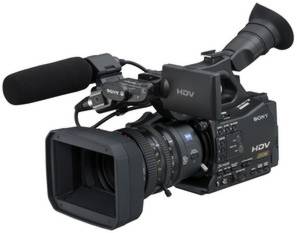 roduct Code HVRZ7E JK
We offer price Less than USD 5700


Order now with free Petrol PMH-2


Click Here for Complete Optional Accessories
Learn more about this Camcorder
Select your Miller Tripod here
Supplied Accessories HVR-Z7
Carl Zeiss lens for HD video

•ECM-XM1 -new microphone-

•AC-VQ1050 -2 slots battery charger-

•NP-F570 –infoLITHIUM battery-
---
PAL NTSC


Get an upgraded set with
PAL /NTSC Switchable - HVR-Z7PU
Order now with free Petrol PMH-2



With this upgrade, following
recording format are available
50i , 60i ,24P,24A, 25P,30P and 60P
---
Optional Accessories
Product Code : DVtoSDIConverter
VideoSolutions DV to SDI Converter
View Details
---
Optional Sony
AC adaptor/charger
and battery kit
ACC-L1BP
Less than
US$ 260

Sony's ACC-L1BP accessory kit includes
AC-VQ1051D dual charger / AC adaptor and an
NP-F970 high capacity InfoLITHIUM® battery