AG-HPX371 P2 HD Camcorder with AVC-Intra

Features Overview AG-HPX371E
AG-HPX371 P2 HD Camcorder with AVC-Intra Recording
Shoot affordably in 10-bit, 4:2:2 AVC-Intra quality with the new AG-HPX371. Its new 2.2 megapixel 3-chip U.L.T imager produces stunning HD content.
AVC-Intra 100, AVC-Intra 50 and DVCPRO HD codecs
SD/HD switchable
50/60hz switchable
Master-quality, 4:2:2, 10-bit, full-raster, native 1920 x 1080 recording
Variable frame rates in 20 steps between 12p and 50p
Cine-Like Gamma mode
Comes standard with high-performance 17x HD Fujinon lens
Can be used in studio configuration
One clip recording
Overview


With a new, advanced 1/3" 2.2-megapixel 3-chip imager featuring Ultra Luminance Technology (U.L.T.), the HPX371 delivers exceptional video performance for master-quality HD production. The shoulder-mount camcorder offers 10-bit, 4:2:2, full 1920 x 1080-resolution AVC-Intra recording with impressive levels of sensitivity and an interchangeable lens. The AVC-Intra codec is unrivaled for its full-raster, 10-bit, 4:2:2 sampling with none of the inherent compromises of 8-bit, long GOP and 4:2:0 recording. The HPX371 provides the ultra reliability of a solid-state design and the faster speed of a file-based workflow.
The HPX371 utilizes a 20-bit digital signal processor and high-resolution 3-MOS imagers, enhanced with U.L.T., which boosts the sensors' performance to rival the image quality and sensitive of ½" imagers. The new U.L.T. sensor results in marked improvements in sensitivity, measured at F10. These high levels of sensitivity and image quality have been achieved with a new high-sensitivity photodiode and low-noise pixel transistor, both based on low-noise analog process technology. The same levels of sensitivity and image production that characterize the interlace mode are now possible in the progressive mode courtesy of Progressive Advanced Processing (P.A.P.), a 3D adaptive processing technology.
With the flexibility of an interchangeable lens, the HPX371 can be used with 1/3" to 2/3" lens adapters for use with existing 2/3" zoom and prime lenses. The camera offers a broad range of creative features including variable frame rates, advanced gamma functions including a new Cine film-like gamma, Chromatic Aberration Compensation (CAC), built-in scan reverse, Dynamic Range Stretch (DRS) function, waveform and vector scope display and focus assist tools. The HPX371 also comes equipped with flash band detection and compensation software built-in for improved CMOS performance.





Optional Item

Teleprompters
With Complete Accessories
Convergent Design nanoFlash
Images recorded in
4:2:2 in CF card
Panasonic camera studio system
View Details
HD Portable Recorder/Player
View Details
The system consist of
AG-CA300G;AG-BS300;AG-EC4G;
AG-YA500G
Offer VSS-17
Less than USD 2000
Offer VSS-19
Less than USD 2500

Less than USD 2900

For more detials
Click here
Wireless Audio and Video System

Azden 325ULT
1000URX/SI
1000XT
IDX HD Wireless
Video Transmitter
and Receiver

325ULT Dual-Channel UHF twin Body-Pack Combo System

AZDEN
Uni Slot UHF
Wireless Receiver
AZDEN
1000XT UHF
Wireless Plug-in
Transmitter
AZDEN UHF
Wireless Receiver / Transmitter
Less than
USD

5000

Less Than
USD 750
Less than
USD 1060
Less than
USD

340
Video Light

UL20

Litepanels
MicroPro Hybrid
Litepanels MicroPro

IDX X3-BD

Sony
LED Video Light
Anton Bauer
Video light
View Details
Video LED Light
operated by
6 x AA Batteries
Video LED Light
operated by
6 x AA Batteries
Video LED Light
operated by
AA Batteries

IDX Enduring
High Performance
LED Light

Barndoor with
Filter Holder for
X3-Lite

Less than
USD505

Less than
USD210

Less than
USD475
Less than
USD475
Less than
USD 305

Less than
USD 362

Less than
USD 88
More Optional Accessories.....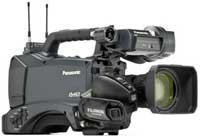 Product code:AGHPX371
Recommended Microphone

Sennheiser ME66+K6

ME 66 Short gun Microphone Head + K6 Powering Module for Batter/Phantom Powering