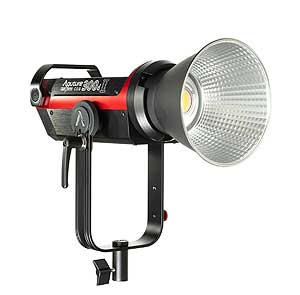 Aputure LS 300d Mark II is 20% brighter, more durable, more portable, and more intelligent than the original 300d.

Even More Output
Aputure LS C300d Mark II By utilizing the latest in Aputure COB LED technology, the 300d Mark II outputs a whopping 20% more light than its predecessor. When combined with the Fresnel 2X, the 300d Mark II can produce up to 80,000 lux. And as always, the 5500K‐balanced 300d Mark II maintains impeccable color fidelity with CRI and TLCI ratings of 96+ and 97+ respectively.

A More Robust Lamp Head
The Aputure LS 300d II also introduces new design features, while maintaining the same form factor and lightweight aircraft aluminum body as the original 300d. The new yoke allows for 360° of rotation, and when combined with the handbrake locking mechanism from the 120d Mark II, you'll be able to mount the light in any position, with any modifier.

Max Efficiency with Hyper Reflector
The Aputure LS 300d II is also the first Aputure light to feature the all-new, hyper efficient 55° reflector. By slightly narrowing the beam from 60° to 55° and redesigning the inner shape and coating of the reflector, we were able to increase the output of the 300d II by more than 3 times, when compared to the original design.

A Revolutionary Redesign
By utilizing Aputure's fan‐less heatsink design, the Aputure LS 300d II's All‐in‐One control box is now completely silent. Composed of a durable aluminum alloy, with a new concealed antenna and military‐grade paracord strap, the control box is ready to withstand the rigor of any film set. The 300d Mark II control box is also the first product to utilize Aputure's new quick release plate and clamp system, allowing you to firmly secure it on any stand, truss, or speed rail.

The long awaited 0%-100% stepless dimming control allows you to use the Aputure LS 300d II in lowlight environments or to overpower the sun, and can utilize any of 4 different dimming curves: Linear, Logarithmic, Exponential, and S-Curve.

The Aputure LS C300d Mark II also features a "studio mode" that allows the lights to turn on and be controlled immediately upon receiving power, making it perfect for DMX lighting grids.

Operating Current
3.5A
Power Consumption
350W maximum
Power Supply
AC100~240V 50/60Hz
Cooling mode
Active cooling
CQS
≥95
CRI
≥96
TCLI
≥96
Color Temperature
5500K±200K
Radio Frequency
2. 4GHz
Channels
1/2/3
Groups
A/B/C/D
Remote Ability
100m
Battery requirement
12V-168V ≥15A
APP Control Type
Bluetooth
Sizes(L*H*W)
Light: 29.84*21.56*34.45 cm / 11.75*8.49*13.56 in
Controller box(V-Mount): 27.86*12.67*9.67 cm / 10.97*4.99*3.81 in