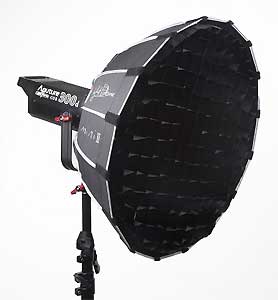 Shallow Dome Design
The Aputure Light Dome Mini II has a shallower design than the larger Light Dome, making it the ideal choice for creatives needing soft light in a more confined space, such as an office, small studio, or room.

Multiple Diffusion Layers
Featuring¼grid cloth and gold+silver reflective inner baffle options,the Light Dome Mini II offers multiple options for diffusing your light source,allowing you to have more creative choices.High quality fabrics allow you to retain your light original color temperature.

Quick Setup
The new versions of the Light Domes feature a new generation of the quick-release speed ring. You can now easily install and disassemble the dome in less than 1 minute. This new generation addresses the needs of creatives who are on fast-moving sets and need a diffusion solution that can be rapidly set up.

Gel Holder Support
The Aputure Light Dome mini II comes with a specially designed gel holder to allow filmmakers to maximize their creativity while minimizing fabric use.

Durable Fabric Grid
The Light Dome Mini II includes an fabric eggcrate-style grid to help fine tune your cinematography and control your spread of light to 40 degrees.

Universal Mount
The new Light Dome mini II is designed to fit with all fixtures from the Light Storm COB family.It is also compatible with a wide variety of Bowens mount lighting systems,the most common mounts used in the world of photography.

Features:
• Shallow dome design ideal for smaller studios and tight shooting space;
• Full silver coating intensifies output strength for more control over light source;
• Unique dual diffuser design ensures even distribution of the light across the entire field;
• Medium-sized 21.5" outer diffuser beam makes a soft and flattering light for smaller subjects;
• Beautiful smooth streamline of round-shaped hexadecagon light output for ideal catchlight;
• Re-designed 16 rods of wear-resistant hadfield steel construction for one-person fast setup;
• Bundled with honeycomb grid add-on help control light spill spread by 40 degrees;
• Bundled with a gel holder for filmmaker to design light colours.

• 1x Portable bag
• 1x Inner diffuser
• 1x Outer diffuser
• 1x Honeycomb Grid
• 1x Gel holder
• 1x Reflector