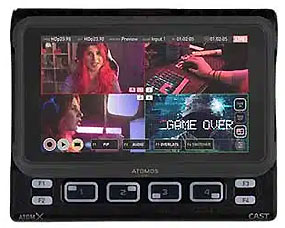 Atomos AtomX Cast Switching Module for Nina V/V+
Product Code: ATOMXCAST


Features
• 4x HDMI in, 1x USB, 1x HDMI out
• With support for mixed resolutions and frame rates up to 1080p60 from almost any HDMI video source
• Programable HDMI output of (Preview, Program or Multiviewer)
• Simple Graphics Overlay and PiP with placeholders
• Value added to the Ninja V Family
• Simple Switching Configuration
Atomos ATOMX CAST Switching dock for Ninja V/V+


Atomos AtomX CAST is a modular companion for the Atomos Ninja V and Ninja V+ monitor recorder that uses the AtomX expansion port on the Ninja V/V+ to transform it into an advanced multi-input switcher. The combination of the Ninja V and AtomX CAST becomes the Ninja CAST, a fully functional stand-alone switcher, multiview monitor, and broadcast quality recorder that does not require a computer to function. With a high-quality 5" HDR touchscreen monitor, 4 x HDMI inputs, and physical buttons, the Ninja CAST is the ultimate portable live switching and streaming solution.

Broadcast features for everyone
AtomX CAST is for video creators or anyone who wants to make broadcast-quality multi-camera programs simply and quickly from anywhere. It is also for anyone that wants to add professional broadcast-quality features to their online meetings, presentations, remote learning/training, virtual conferences, demonstrations, or engaging corporate videos. Best of all, CAST is simple and easy to use you don't need to be a video professional to achieve great-looking results.

Simple Switching and Streaming
The flexible control options allow you to use either the touchscreen or the physical buttons to 'switch' between sources when deciding what should be on screen at any one time for broadcast. The illuminated buttons for each input and colored LED lighting for Program and Preview status allow you to operate the CAST in dimly lit environments.

Easily change from a quad view to a single channel view on any of your incoming signals with a tap on the screen. In single view mode, you have access to all the monitor assist tools of the Ninja V/V+, which includes focus peaking, zoom, zebras, and more. Tap the screen again and you are back in quad view ready to switch, knowing all your inputs are focused and exposed correctly.

Connect any full HD video source
Connect mirrorless or DSLR cameras, video cameras, computers, consoles or pre-recorded content via HDMI. There's no need to worry about synchronization, as you can mix & match frame rates up to 60p.

Integrates Seamlessly
With the Ninja V or Ninja V+ docked in, the AtomX CAST connects via USB-C to your computer and appears as a high-quality webcam. Plug and play allows it to work immediately with all your video applications like Zoom, Teams, and Skype without the need to install drivers on the computer first. Add up to 4 camera inputs to bring your presentation or meeting to the next level.

Integrated Monitor
Having an integrated monitor allows you to see the incoming signals as a multiview display, without having to connect an additional monitor. With the Ninja V / V+ docked into the AtomX CAST you can utilize its high-quality 5" touchscreen for setup and the monitor-assist tools for exposure, focus, and image analysis for optimizing your shots. Switch to multiview to see all four inputs at once, complete with audio level monitoring. Ninja CAST offers all the same essential monitoring features available from your Ninja, allowing you to nail exposure and focus every time.

Configurable and Adaptable
As AtomX CAST is so compact and versatile, users can easily work alone or with a team to enhance their productions. Solo operators can transport the Ninja CAST in a small backpack and use it discreetly with compact mirrorless cameras for productions of any size. For larger setups, the Ninja HDMI output can be used as a secondary output that can be set up as a duplicate program out, preview monitoring for the crew or talent or to connect to a larger multiview display.

Enhance your brand, your videos, and your reach
Sophisticated features like logos, masthead graphics, and lower-third titles will make your productions look incredible, and the dedicated controls for these functions make them easy to use. Add custom graphics for branding your content, with support for transparency, sponsors' logos, and other on-screen information to your production, and configure the layout on the Ninja touchscreen.

Picture-in-Picture
One of the benefits of using CAST with a multi-camera setup is that you can use the Picture-in-Picture function to display two inputs at the same time. Any of the four HDMI inputs can be used for a Picture-in-Picture effect over the program output with controls for the size and location of the overlayed image. You can display a close-up of a product on your desk and display your face as a picture in a picture at the same time, whilst you talk about the product.

Ready for Advanced Workflows
AtomX CAST connected to a Ninja V / V+ is a fully functional stand-alone switcher, but you can also use it with a computer for more advanced video work. In this mode, AtomX CAST and Ninja V do the heavy lifting, taking the load off your computer and reducing the likelihood of software crashes with dedicated external video processing.

Simply add AtomX CAST as a media source in OBS, X-Split, and VMix to make use of the software application's additional graphics and scene configuration while using the CAST for video input switching.

Stand out from the crowd
Using Ninja CAST with a decent camera and almost any suitable lens gives you a professional broadcasting solution with incredible picture quality. You can set a shallow depth of field and create a cinematic look that is dramatically different from the image you get from your average webcam. Pay attention to lighting, camera angles, and sound, and you will soon be making professional quality video productions. Even an older HD camcorder can output great-looking video through its HDMI port, which means that you probably already have cameras for multi-camera production.

Recording and Codec options
With professional 10-bit 4:2:2 inputs, you get broadcast quality switching and the ability to record in broadcast quality codecs like Apple ProRes or Avid DNx.

Built-in versatility
AtomX CAST can deliver to a worldwide audience by sending a stream to your favorite streaming host, and outputting a broadcast quality video signal to a local display, digital signage, or video wall – and you can do all this whilst recording the program stream for editing or to share post-event.

Other Web
Atomos AtomX Cast
• AtomX CAST
• USB-C cable
• SSDmini Handle Adaptor