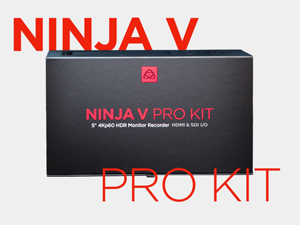 Atomos NINJA V Pro Kit monitor/recorder perfect for Mirrorless, DSLRs and Gaming.
Product Code: NINJAVKIT
7% Goods Service Tax (GST) will be imposed over the total invoice value if purchased locally in Singapore. However if you are a tourist visiting Singapore, this GST amount can be refunded at the Changi Airport GST Refund Centre before departure and this must be done within 30 days. Please note that only Foreigners / Tourists who have met the Tourist Refund Scheme's conditions and eligibility criteria can claim for the GST refund. Please visit https://www.iras.gov.sg/IRASHome/GST/Consumers/Tourist-Refund-Scheme/ for GST Guide for Visitors on Tourist Refund Scheme.



Atomos NINJA V Pro Kit Portable Monitor/Recorder
Up to 6K RAW recording via HDMI and SDI!
The Atomos NINJA V Pro Kit has been designed to bridge the gap between compact cinema and mirrorless cameras that can output RAW via HDMI or SDI. Pro Kit also pushes the limits of these cameras, recording up to 6K 12-bit RAW* externally on the Ninja's onboard SSD. Pro Kit also provides the ability to cross convert signals providing a versatile solution for monitoring and playout/review.

* with compatible cameras.

Everything you'd expect from Ninja V
The Atomos NINJA V Pro Kit robust aluminium 5″ monitor-recorder allows for a compact rig set-up for camera owners and operators to work with all the latest cameras. Perfect for run and gun productions, documentary filmmaking and for those close-up shots that require the camera operator to be flexible or mobile.

The Ninja V's compact 5″ 1000nit screen is designed to provide a foundation for scalability and modularity. Combined with the AtomX SDI module and some serious tuning under the hood the Atomos NINJA V Pro Kit provides the ability to record RAW via SDI from some of the best compact cinema cameras on the market.

No RAW, no problem. The Ninja V monitor-recorder is a flexible tool that can work as a HDMI/SDI ProRes monitor-recorder. Worry less when it comes to battery management and excess weight as the Pro Kit is designed to be powered via DTap from your camera battery or rig. Pro Kit also includes a AtomX 5″ Sunhood providing increased monitoring options outdoors, and reduced ambient light for when monitoring in HDR.

Powerful & versatile I/O
Adding dual 12G SDI connectivity expands the compatibility with other cameras to provide offboard 10-bit 422 recording in edit ready codecs or as proxy files from RED or Arri cameras allowing the file naming and timecode from the camera to also be carried via SDI to the recorded files.

And of course the Ninja V also provides support for RAW over HDMI from our evergrowing roster of mirrorless cameras including the Sony Alpha 7S III, Z CAM E-2 Series, Nikon Z-Series, Lumix S Series, Olympus OM-D EM-1X, Olympus OM-D M1 MkIII and more.

The flexibility to suit any production
In playback mode the Atomos NINJA V Pro Kit provides a lossless signal distribution with 2 x 12G SDI and 1 x HDMI 2.0 for simultaneous outputs up to 4K p60. When used in combination with the Ninja's playlist functionality it provides a fast and convenient way to review content or show a highlight reel.

RAW inputs can also be de-bayered in real time and non-standard high resolutions are processed to SMPTE standard output formats. Convert to HLG, PQ or your choice of 3D LUT can also be applied allowing for RAW or LOG content to be viewed with the correct application of artistic intent.

Existing Ninja V and SDI module owners
For existing Ninja V and SDI module owners you will have the opportunity to upgrade your monitor and module with a paid upgrade of $99 to enable RAW over SDI from the selected cameras. The paid upgrade will be available in early 2021 via the Atomos website.

HDMI-to-SDI cross conversion
Adding the SDI module to the Ninja V Platform more than doubles it's I/O functionality. To complement the inputs, HDMI or SDI connections can be cross converted, DCI cropped and 4k to HD down converts for video signals to provide a bridge between equipment such as EVFs, wireless TX/RX without the need for additional convertors.

Ninja V Pro Kit power options
The Pro Kit offers 3 ways to power your Ninja
- In the Studio you can use the included DC power supply with lockable jack to connect to the Ninja V and with the international power plugs you'll be covered wherever your work might take you.
- On-set via the included DTap cable to connect to your choice of battery with a DTap output meaning your camera rig can run from a single power source.
- On the move with a compact rig you also have the choice to run the Ninja directly from an optional NPF battery or any 4 cell NPF you might have in your kit bag.
Physical Specifications
Dimensions (W x H x D mm)
151 x 91.5 x 31mm (Ninja only)
Weight
360g / 12.7oz
Mount points
1 x Anti rotation 1/4" / 3/8 top and bottom
Environmental
Ambient operating temperature
Up to 40° Celsius
Construction and Control
Body
Aluminium with ABS plastic
Cooling
Actively controlled fan and heat sink
Tally light
Rear and front
Multi-function button
Power / lock Screen
AtomXpansion slot
Yes
Power
Input voltage
6.2V to 16.8V
Operating power
5.8-7.2v
Compatible batteries
NPF L series
Battery Run time (Record)
5200mAh - up to 2hrs (monitor & record 4K 60p)<br/>7800mAh - up to 3hrs (monitor & record 4K 60p)
Continuous power
Via Optional AtomX SYNC Module
DC in connector
Via DC Jack on Battery eliminator
Dtap
via battery eliminator and optional DTap to DC cable
Display
Touchscreen
SuperAtom IPS panel (capacitive touch)
Size
5.2"
Resolution
1920 x 1080
PPI
1920 x 1080
Bit depth
10Bit (8+2 FRC)
Backlight Type
Edge lit
Brightness (cdm2 / nits)
1000
Aspect ratio
16:9
Color Gamut
Rec.709
Calibration support
Atomos Calibrator with Xrite i1 Display Pro / Plus (Retail)
Color Pipeline
Gamma
Sony SLog / SLog2 / SLog3, Canon CLog / CLog2 / Clog3, Arri Log CEI160 / LogCEI200 / LogCEI250 / LogCEI320 / LogCEI400 / LogCEI500 / LogCEI640 / LogCEI800 / LogCEI1000 / LogCEI1280 / LogCEI1600, Panasonic Vlog, JVC JLog1, Red LogFilm / Log3G10 / Log3G12, FujiFilm Flog, PQ (HDR10), HLG, Nikon N-Log
Gamut
BT2020, DCI P3, PDCI p3 65, Sony SGamut / SGamut3 / SGamut3.cine / Canon Cinema / DCI P3 / DCI P3+ / BT2020 Panasonic V Gamut Arri Alexa Wide Gamut Rec709 JVC LS300 Red DragonColor / DragonColor2 / RedColor2 / RedColor3 / RedColor4 / RedWideGamut"
3D LUT Display
.Cube Format
3D LUT Down Stream
Loop out
3DLUT 50/50
Yes
Monitoring Modes
Native / HLG / PQ / 3D LUT
HDR output Conversion
Log / HDR to HLG / PQ / Dolby Vision
Video Input
HDMI
1 x HDMI (2.0) 4k p60
HDMI RAW
ProRes RAW up to 6k
SDI
2 x 12G SDI Backwards compatible Auto detection via included AtomX SDI module
SDI RAW
ProRes RAW up to 6k
Bit Depth
8/10Bit Video / RAW up to 16Bit
Video Chroma Subsampling
4:2:2
Metadata
HDMI
RAW - white balance, Exposure index, Shutter speed/angle, Iris F stop, ISO, Gamma, gamut
SDI
File Name from Arri, RED
Video Output
HDMI
1 x HDMI (2.0) 4k p60
SDI loop out
1 x 12G SDI Backwards compatible Autodetection via included AtomX SDI module - level A and B selectable
SDI Play out
2 x 12G SDI Backwards compatible Autodetection AtomX SDI module - level A and B selectable
Video Chroma Subsampling
4:2:2
Bit Depth
10-bit video
Web Streaming
USB UVC
Optional via Connect 4k
Video Signal Conversion
HDMI to SDI
Yes - Video and RAW
SDI to HDMI
Yes - Video and RAW
Audio In/Out
Audio Quality
24/48kHz
Audio Codec
PCM
HDMI
8ch 24Bit, input dependent
SDI
12ch 24-bit, input dependent
Analogue Audio in
3.5mm 2ch.
Headphone out
3.5mm 2ch.
Timecode / Sync
Embedded
HDMI and SDI
Time of day
Yes, Time and Date
LTC
via 3.5mm audio Jack input (Requires post processing)
Wireless SYNC
via 3.5mm audio Jack input (Requires post processing)
Resolution and Frame Rates (Record, Monitor & Playback)
6k
RAW Only up to 30p via HDMI and SDI (Camera dependent 5.9k HDMI and 5.7k SDI)
4k DCI
23.98/24/25/29.9/30/50/59.94/60p
4k UHD
23.98/24/25/29.9/30/50/59.94/60p
2K DCI 2046 x 1080
2k DCI: 23.98/24/25/29.9/30/50/59.94/60p / Sony FX9 RAW up to 180p
Anamorphic
3.5k: RAW up to 60p (from supported cameras only)
FHD 1920 x 1080 Progressive
23.98/24/25/29.9/30/50/59.94/60/100/120p
FHD 1920 x 1080 PsF
Converted to P and looped out PsF
FHD 1920 x 1080 Interlaced
23.98/24/25/29.9/30/50/59.94/60i
1280 x 720p
50/59.94/60p
Recording CODEC
Apple ProRes RAW
ProRes RAW, HQ
Apple ProRes
LT, 422, 422HQ
Avid DNxHD
DNxHD 220x,220,145,36
Avid DNxHR
LB, SQ, HQ, HQX.
Playback
Playlist
Yes, Create customer play lists from full or sub clips
Loop
Yes, with user customisable in / out markers
Apple ProRes Raw
Yes, recorded clips
Apple ProRes
Yes, with Linear PCM audio
Avid DNx
Yes, with Linear PCM audio
Recording functions
Pre-roll record
Yes (HD 8s, 4K 2s) - Not available in RAW
Timelapse
Yes
Multi Input / Switching
SDI A/B toggle
Yes, Up support up to 12G SDI per input
Supported media
Master Caddy I
Not compatible
SSDmini
Native Size and Fit
CFast II
via Supported cards via optional SSDmini CFAST II Adaptor
File Naming
Unit Name - Scene/Shot/Take, Arri & RED via SDI
File System
ExFAT
On screen tools
MultiScope Analysis View
Yes, 3 size / Position
Histogram
Yes, 3 size / Position
RGB parade
Yes, 3 size / Position
Vector scope
Yes, 2 size / Position
1 x Zoom
Yes. 1:1 Pixel mapping for 4k
2 x Zoom
Yes
Focus peaking
Colour selected / threshold setting / colour / Mono / edges only
False colour
Yes, with Scale
Zebra
Yes, Adjustable
Isolate color channel
Blue Only
Cine Frame Guides
2.4:1, 2.35:1, 1.9:1, 1.85:1, 4:3
Social Frame guides
9:16, 1:1, 191:1, 4:5
Safe areas
Action and Graphic
Grid markers
9 grid
Anamorphic desqueeze
1.25x 1.33x , 1.5x ,1.8x ,2x
Display Flip
Vertical Only
Onboard Signal Processing
Pulldown Removal
24/25/30pSF > 24/25/30p (2:2 pulldown) 60i > 24p (3:2 pulldown)
4K UHD Downscale for HD
Loop out - 4K UHD to FHD
DCI Crop
Loop out - 17:9 to 16:9 Crop
Remote control
HDMI
Auto HDMI Trigger, Supported Protocols - Canon, Sony, Atomos Open Standard
SDI
SDI trigger camera selectable
Serial 2.5mm Jack
LANC control and calibration via optional USB to serial cable
Bluetooth LE
via optional AtomX SYNC module
Wireless RF
via optional AtomX SYNC module
External Device Control
Serial 2.5mm Jack
Camera control for supported cameras via Optional USB to Serial Cable
Bluetooth LE
Via optional AtomX SYNC module to compatible devices
Wireless RF
Via optional AtomX SYNC module to compatible devices
Supported Applications
XML
Cut tag EDL in FCPX XML
Apple ProRes RAW
Apple FCPX, Adobe Premier, After Effects, Avid Media Edius, Assimilate Scratch, Baselight Film Light.
Video Codecs
All Applications with support for ProRes and Avid DNX in .MOV wrapper
- Ninja V with SDI RAW Pre-Activated
- AtomX SDI module
- 1 x Battery Eliminator
- 1 x international DC power supply
- 1 x Dtap Cable
- 1x AtomX 5″ Sunhood
- 1x Atomos Connect*
*Due to the high demand on streaming products, Ninja V Pro Kit includes Atomos