---
7% Goods Service Tax (GST) will be imposed over the total invoice value if purchased locally in Singapore. However if you are a tourist visiting Singapore, this GST amount can be refunded at the Changi International Airport Departure Hall / Seletar Airport Passenger Terminal / Marina Bay Cruise Centre Singapore/ International Passenger Terminal at Harbourfront Centre GST Refund Centre before departure with goods within 2 months from the date of purchase. Please note that only Tourists who have met the Tourist Refund Scheme's conditions and eligibility criteria can claim for the GST refund. Please visit: https://www.iras.gov.sg/IRASHome/GST/Consumers/Tourist-Refund-Scheme/ for GST Guide for Visitors on Tourist Refund Scheme.
DataVideo DN-60A HDV / SD CF Card Video Recorder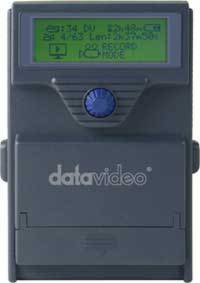 Product code:DN60B/DN60C
Product Code DN60A
DN-60

Discontinued

---

Product Code DN60B
DN-60 with 8GB CF Card

Discontinued

---

Product Code DN60C
DN-60 with 16GB CF Card

Discontinued

Overview:
Tapeless, file based video acquisition has widely become accepted as a replacement for out-dated tape based systems.
Recording times are far longer than for traditional tape, there are no drop-outs and using Datavideo's Direct to Timeline technology, you will speed up the process from acquisition to editing, thanks to file transfer, rather than traditional capturing.

The Datavideo DN-60 utilizes the latest solid state technology of removable and high-capacity CF memory cards, providing hours of continuous high definition recordings, enabling you to take advantage of tapeless acquisition in even the toughest environments.

The DN-60 is powered using four traditional AA batteries, or widely available rechargable AA batteries. A set of batteries providing more than two hours continuous recording, depending on the type of battery used.

Also included is an external power supply. The Datavideo DN-60 connects directly to your existing DV or HDV camcorder via a single FireWire cable.

The DN-60 is lightweight and easy to mount to camcorders. It is perfect for news gathering, location shoots, security systems, scientific and medical recording.
Features:
Portable, Small size, Rain-Proof, shockproof
Removeable CF card, compatible with FAT32 or NTFS file systems
Flexing mounting options include tripod and hot shoe
File support includes AVI, MOV, MXF-OP1A and M2Tformat, QuickTime HDV and MXF-OP1A through quickutility program
Time lapse recording down to single frame recording for stop motion, science, model animation or many other application
8 seconds pre-record buffer, useful in recording unex-pected events especially in science research, outdoor recording or security applications
Control Interface RS232 compatible with Sony Protocol
Use four standard AA batteries for more that two hours continuous recording. Can also use included external power adapter
IEEE 1394 input and output, can store DV,HDV,DVC Pro 25 & 50 and DVC Pro HD-100 signal formats
DV25 time code from the camera or generates internal time coder
Support for DV,HDV,DVCPro25, DVCPro50 & DVCPro HD100
DN-60 can be controlled directly by the camera through the IEEE-1394 AVC command protocol. Record to inexpensive, reliable and widely available CF-Cards
Approved Compact Flash Cards Compatible For Use With The Datavideo DN‐60
Brand
CF Card Name
Data Rate
Size
Max Record Time Approx
DV25, HDV
DVC Pro 25
DVC Pro 25
SanDisk
Extreme III
30MB/sec
2GB
7 mins
3 mins
SanDisk
Extreme III
30MB/sec
8GB
30 mins
15 mins
SanDisk
Ultra
30MS/sec
16GB
1 Hour
30 mins
SanDisk
Extreme
60MB/sec
32GB
2 Hours 15 mins
1 Hour 7 mins
SanDisk
Extreme Pro
90MB/sec
64GB
4 Hrs 30 mins
2 Hrs 10 mins