---
7% Goods Service Tax (GST) will be imposed over the total invoice value if purchased locally in Singapore. However if you are a tourist visiting Singapore, this GST amount can be refunded at the Changi International Airport Departure Hall GST Refund Centre before departure with goods within 30 Days from the date of purchase. Please note that only Tourists who have met the Tourist Refund Scheme's conditions and eligibility criteria can claim for the GST refund. Please visit: https://www.iras.gov.sg/IRASHome/GST/Consumers/Tourist-Refund-Scheme/ for GST Guide for Visitors on Tourist Refund Scheme.
Atomos Shogun Studio 7" 4K/HD Recorder-Monitor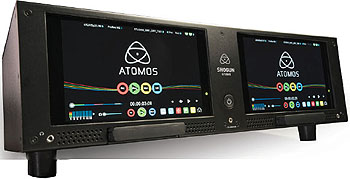 Product Code : SHOGUNSTUDIO
Discontinued
Register your purchase on line to get a 3 years warranty




Harnessing the latest 4K/HD recorder, monitor and playback technologies the Shogun Studio enhances existing HD workflows and provides an affordable rack mount solution for creating 4K Masters.

•Simultaneously record 4K, HD AND RAW in 4:2:2 10-bit edit ready codecs
Dual Record channels provides the ability to simultaneously record 2 separate inputs in your choice of resolution and codec. It also gives you the choice to record 2 versions of the same input for parity or to suit your workflow. Perfect for recording 4K Masters with HD
deliverables or Full Resolution RAW to ProRes/DNxHR with lightweight proxies or dailies.

• Dual 7" monitors with scopes
Full playback controls allow collaboration on set to review content the moment it's captured, using the full suite of monitor tools on screen or out to a larger HDMI or SDI monitor. There is even 4K to HD downscaling to connect with existing HD infrastructure.

•Control protocols to suite you operation
Offering the lightning fast touch screen interface of the AtomOS for in rack control, remote control via AMP over ethernet and RS422 Machine control protocols to suit your operation via 9 pin din for flexibility in both Rec and Playback. You can also cascade trigger controls to enable multiple recorders to start recording from a single input.

• Metadata tagging at point of acquisition
Save time in post by tagging your captured content the moment you review on set. Mark using 10 tags including Favorite/Reject in record or
playback mode & even mark the i/o points for the tags. Create custom playlist of favorites which respects subclip i/o points, selected clips or all clips with either a rundown or reverse order playback. Then save them out as an XML to the drive and drop straight onto the
timeline of your choice of NLE.
We are running a promotion for Atoms professional Monitor screen /recorder when purchased from Expandore. You will enjoy a 2 x free Color screen Calibration service for free for 2 x sessions within 2 years from date of purchase.

For those who has bought from us after 2018 Jan will enjoy the same. ( For these group of good customers , we offer 2 x Free Calibration service till 2021 10th Aug).

Atomos monitors are all high quality screens that are calibrated in the factory prior to shipment. Like all monitors however, they will exhibit color drift over time and so for that reason like other premium monitors, thus users have to calibrate the screen after purchase.

This should also be done periodically to get the accurate color. Recommended to have it done at least twice yearly

Only following product can be Calibrated by us
- Ninja / Shogun Flame
- Ninja / Samuralu Blade
- Ninija Assassin / Shogun
- Shogun Inferno
- Shogun Studio
- Sumo Series
With the exception of the Ninja2 and Ronin products

Calibrate Shogun Inferno / Flame / Studio, Ninja Flame, Blade Series and Sumo, Calibrates to REC 709 specification with D65 White Point.

Following is our Calibration procedure.
Step 1.
Secure an appointment with us and Inform us the Invoice detail, Model and its Serial number ( If you lose the above details)
Email : Sales1@expandore.sg or Whatsapp me Steven at 96270430

Step 2
Get ready your working Atomos monitor plus its Power supply and battery.

Step 3
Make sure it is a working set before making the appointment. Lance port must not be defective or else we can not connect to the calibrator to work.

Step 4
Visit our store to have the calibration done - It take approximately 5- to 10 minute. This can be done only in our store. However the unit must be power up for approximately 30 min before calibration can be done.

Step 5
Done and Pay to us Via Paynow ( For those whom has purchased in the open market)

Step 6
Additional calibration outside the free service can be arranged at fees is SGD 50/calibration per unit.

Application Models
1. Ninja / Samuralu Blade
2.Ninija Assassin / Shogun
3.Shogun Inferno
4. Shogun Studio
5. Sumo Series

With the exception of the Ninja2 and Ronin products. Items not listed in the above, we will be unable to assist.

Note : We reserve the right not to accept set which was not purchased from us, as we shall give pripority to those Expandore loyal customers. However when the Q is clear we will then reschedule it for you. The Fees is at SGD 50/ per Session per unit.

Note : The current booking Q is from 10th Aug 2020 onwards
Weight & Dimensions

Weight
5.0kg / 11lb
Rack height
3Ru
Rack mounting
Removable rack ears
Dimensions (W x H x D mm)
447 x 152 x 251mm, 17.6 x 6.0 x 9.9" (without rack ears)
490 x 152 x 251mm, 19.3 x 6.0 x 9.9" (with rack ears)
Construction
Steel construction for durablility
Cooling
Actively controlled fan with heat sinks
Power

Operating power
20 - 60W
Redundant PSU
Yes
Compatible batteries
No
Input voltage (battery)
-
DC Out
No
Continuous power
* Patent pending
-
Touchscreen

Size
7.1"
Resolution
1920 x 1200
PPI
320
Aspect ratio
16:9 native
Color standard
Rec.709 HDTV
Look up table (LUT) support
3D LUT (.cube file format)
Technology
SuperAtom IPS panel (capacitive touch), calibration to Rec.709 with optional Atomos Spyder
Video analysis tools
Luma waveform, RGB parade, Vectorscope, Vectorscope zoom
Calibration
Calibration in factory to Rec.709, in field calibration with optional Spyder
Video input/loop out

HDMI
1 x HDMI (1.4b) per channel
SDI
1 x 4K-SDI 12G/6G or HD-SDI 3G/1.5G (SMPTE) per channe
Signal
Uncompressed true 10-bit or 8-bit 422 (camera dependent)
Video output (play out)

HDMI
1 x HDMI (1.4b) per channel
SDI
1x 4K-SDI 12G/6G or HD-SDI 3G/1.5G (SMPTE) per channe
Signal
Uncompressed true 10-bit or 8-bit 422 (playback file dependent)
Supported formats (Record & Playback)

4K - DCI RAW 4096x2160 to Supported cameras;
Sony FS700, FS7 Canon C300MKII, C500
Apple ProRes
HQ, 422, LT
DNxHR
HQX, HQ, SQ, LB
4K-UHD 3840x2160 8/10-bit 4:2:2 to
Apple ProRes
HQ, 422, LT
DNxHR
HQX, HQ, SQ, LB
1920x1080 8/10-bit 4:2:2 to
Apple ProRes
HQ, 422, LT
DNxHD
220x, 220, 145, 36
1280x720 8/10-bit 4:2:2 to
Apple ProRes
HQ, 422, LT
DNxHD
220x, 220, 145, 36
Onboard Processing

Pulldown removal
24/25/30pSF > 24/25/30p (2:2 pulldown)
60i > 24p (3:2 pulldown)
HDMI < > SDI conversion
Yes - Always on
4K - UHD to HD downscale
On HDMI/SDI loop out (Rec & Playout)
Audio in/out (48kHz PCM audio)

HDMI
2 or 8ch 24-bit, camera dependent
SDI
12ch 48kHz 24-bit
Analogue audio
2 x XLR in & 2 x XLR out on rear per record channel.
Mic or line level with phantom 48V
Processing
Gain control on line in & headphone output
Maximum audio quality
24-bit, 48kHz
Audio delay
Delay setting +1 to 99 frames
Remote control

HDMI
Auto HDMI Trigger
Supported Protocols - Canon, Sony, Atomos Open Standard
SDI
SDI trigger camera selectable
RS422
RS422 machine control
AMP
via Ethernet RJ45 10/100
Serial
Calibration (front)
Timecode

HDMI
Embedded timecode from camera or video device
SDI
Embedded timecode from camera or video device
LTC In
Yes (LTC loop back)
GenLock In
Yes (GenLock loop back)
Playback

Playlist
Yes (run down or reverse order) for selected, favorite or all clips
Playback options
Loop in & out markers
Recording

Dual channel
Record 4K master with HD proxies. Record both ProRes & DNxHR versions, independent dual channel record.
Continuous record
Single channel 4K / HD recording automatically switches between drive when at capacity
Pre-roll record
Yes (HD 8s, 4K 2s)
Custom timelapse
Yes (Key frameable up to 10 video and single frame Intervals, can be triggered from internal clock).
Meta data tagging
Yes (10 tags available)
Recording media

Drive slots
2 (1 per record channel)
Drive connection types
SATA
Supported media
(Approved List Only)
4K / HD (50/60/120p*)
CFast 2.0, SSD 2.5", HDD (HD 50/60 only - 7,200 up to 1080p60)

HD
CFast 1.0, SSD 2.5", HDD (5,400 up to 1080p30)
Master caddy case
Master Caddy II (included)
75mm x 105mm x 12mm
Master caddy dock
2.5" SATA to USB 2.0/3.0
Supported applications
FCPX/FCP7+ / Media Composer 5.0+ / Premiere 5.5+, EDIUS 6.0+ /
Vegas Pro 10+ / Lightworks / Autodesk Smoke 2015
XML support
FCPX XML native, FCP7 supported with conversion (Adobe compatible)
Accessories included
Shogun Studio unit, 2x Rack ears with screws, 5x Master Caddy II, 4x Rubber feet,
2x Large rubber feet, 2x IEC power cable, 1x Screen cleaning cloth
Optional extras
Master Caddy II x 5, Spyder calibration
Warranty
1 year. Extended to 3 years on product registration
• 1x Shogun Studio unit
• 2x Rack ears with screws
• 5x Master II Caddies
• 4x Rubber feet
• 2x Large rubber feet (for elevating the front of the unit)
• 2x IEC power cable (or external PSU for Japan)
• 1x Screen cleaning cloth
• 1x Quick Start Guide